We are a leading executive and board search firm, with offices in Philadelphia, Boston, Silicon Valley, and Chicago.
Our success stems from our belief that exceptional leaders are the most powerful competitive advantage a company can have in the global marketplace and because of this, we are focused on the long-term success of a candidate throughout the search process, especially after the hire.
Every search is unique, requiring a combination of analytical and creative thinking, focused in-depth evaluation, and ongoing communication. Our 360-degree audit process ensures that all candidates are fully vetted and will fit the culture of the client. Following placement, we measure candidate performance, as well as client and candidate satisfaction, via proprietary performance surveys to confirm that the relationship is meeting – and exceeding – expectations. These candidate and client satisfaction results are built into the performance bonus of each of our search consultants. This assures that their interests are aligned with the interests of our clients. Namely, that our candidates exceed their expectations.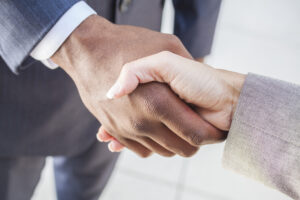 Our team of consultants takes on a limited number of searches at one time, so that we can provide the highest level of service.
First and foremost, we care about high-quality search execution – as a result, we consistently help our clients achieve their business success through leadership.