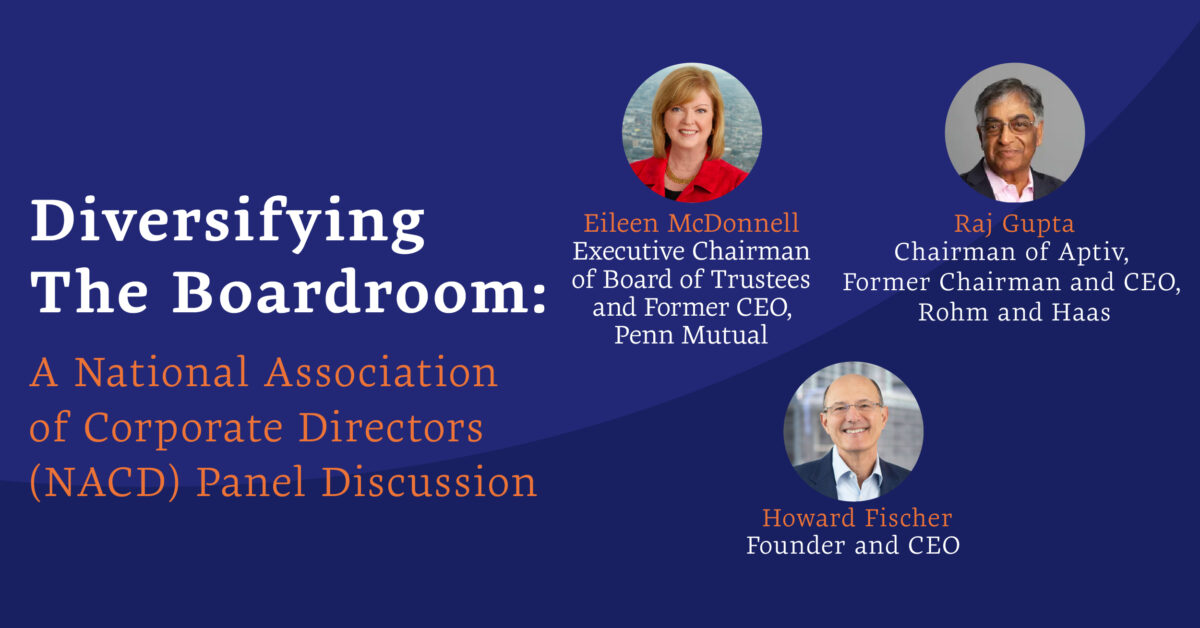 By: Howard Fischer, Founder & CEO, Howard Fischer Associates Int'l
I recently had the opportunity to participate in "Diversity and Inclusion in the Boardroom and Beyond," hosted by the National Association of Corporate Directors (NACD) Philadelphia Chapter and moderated by Charisse Lillie, CEO of CRL Consulting LLC, and former Fellow and Vice President of Community Investment for Comcast Corporation and Executive Vice President of the Comcast Foundation.
I participated in this panel discussion alongside Eileen McDonnell, Executive Chairman of Board of Trustees and Former CEO of Penn Mutual, and Raj Gupta, Chairman of Aptiv, a publicly-traded auto parts company (formerly Delphi Automotive).
Eileen McDonnell – Eileen McDonnell serves as Executive Chairman of the Penn Mutual Board of Trustees. She also serves on the Board of Managers of Janney Montgomery Scott, a wholly-owned subsidiary of Penn Mutual, and on the Board of The Insurance Federation of Pennsylvania and The Board of Universal Health Services (NYSE: UHS).
Raj Gupta – For ten years, Raj Gupta served as Chairman and CEO of Rohm and Haas.  Raj has served on Fortune 500 boards across many industries.  He is currently on the boards of Dupont, Arconic Inc., and is Chairman of Avantor Inc. Raj has served on the Boards of Hewlett Packard Enterprises, IRI, The Vanguard Group, and Tyco International.
In this hour-long panel discussion, we shared our insights and experiences, and fielded questions from the audience about:
Working with companies with diversified boards
Actionable steps companies can take to create a diverse board and corporate culture of diversity and inclusion
Advantages of diverse boards
Identifying, sourcing, and attracting diverse candidates to boards
The positive impact that a diversity strategy can have on a company's long-term success
Some key take-aways:
Diversity is good for people, so it is no surprise that diversity is also good for business.
Transforming the board starts with leadership.
The CEO, board chair, and other key leadership must believe in the importance of diversity. They must recognize that it is value-creating, and there is no compromise to be made in terms of quality. They must understand it may take time, but it can and will be done. Without that conviction, people tend to remain at the status quo.
Having intentionality. For example, in seeking a broad range of individuals, a board should define "diverse" as encompassing the fullest definition – diversity of thought, experience, race, ethnicity, sexual orientation, etc.
To address concerns on best fit, there should be a long "courtship" between the potential new board members and a broad swath, if not all, of the board members to get to know each – this significantly contributes to success after the hire.
A new era of corporate governance is upon us. One that will likely require adapting to complexities related to societal perspectives, regulatory requirements, the rapidity of change, and a more globally connected economy. Events of the past year, shifting US demographics, and a need for inclusive leadership have increased the focus on diversity in the C-suite and on company boards, and have underscored the importance of building diverse and inclusive boards of directors that can support organizations in promoting connection with the diverse world in which they operate and interact.
Time has proven that a diverse board positively impacts an organization's performance and fosters a culture that prioritizes, supports, and invests in diversity, equity, and inclusion at all levels.
The CEO, board chair, and other key leadership must believe in the importance of diversity. They should recognize that it is value-creating, and there is no compromise to be made in terms of quality. They understand it may take time, but it can and will be done. Without that conviction, people tend to remain status quo.
In regard to corporate governance, what role should a board play in terms of oversight of DEI issues?
Imperative to select board members who believe in diversity, equity, and inclusion.
Companies serve many different stakeholders (customers, employees, and investors) and boards need to be able to identify, analyze and understand those different perspectives, views, needs, and opportunities. To be a successful business leader or business, representation of the broadest swath of stakeholders is needed to bring those experiences into the board's decision-making. The role of the board and governance committee is key to the process of building a diverse board.
Recommend that Nominating and Governance Committees review their guidelines and be very intentional with the words used with respect to creating a diverse board and company, then hold themselves and the board accountable.
Has there been an increase in interest for diverse candidates for both boards and executive-level positions?
Unequivocally, yes. We have each seen unprecedented demand and a limited supply of diverse board talent in part because of the confluence of events over the past year. Despite the best efforts of many over the last few decades, specifically the last 10 years, and looking at recent surveys of Fortune 500 corporate boards, it is still shocking to see the tremendous underrepresentation.
Supply
Supply and Demand – Despite the enormous demand, there is a limited supply of traditional target titles, among other factors, creating competition and strong demand for diverse directors among the Fortune 1000, Russell 3000, as well as pre-IPO, and large private companies.
New and Broader Skillsets – At HFA, we have expanded traditional target titles for board positions beyond sitting or recently retired CEOs, COOs, and CFOs to include division presidents and functional leaders with high strategic value and additional skills to meet the expectations companies have of modern boards, to meet company plans for transformation and long-term strategy. For example, CTOs or CIOs who can advise on digital transformation and CHROs who bring strategic culture-building experience. Companies should think about skills around cybersecurity, globalization, trade issues, etc.
Capacity – There are limitations on the time and capacity of board members. It is rare for a company to allow its executives to sit on more than one or two outside boards.
Proactive Board Management – Companies need proactive management for the ongoing refreshment of the Board to meet the company's strategy, transformation plans, etc. versus waiting on a vacancy due to mandatory retirements, long tenure, etc.
Demand
Diversity is good for people, and it is good for business.
Studies by McKinsey and other consulting and research companies show a correlation between diversity and corporate performance and that there has been exponential growth in interest for diverse board members in the recent past. These studies report that diverse boards outperform less diverse peers in all the important metrics.
Investors like BlackRock and Vanguard are giving strong guidance to their portfolio companies about DE&I, and top lead underwriters like Goldman Sachs, are indicating that they won't take companies public that don't have at least one diverse board director.1

How has HFA's approach to sourcing candidates changed?
By being proactive versus reactive. We have reinvented our approach in almost every facet of the process to provide clients with a path to significantly, and more quickly and sustainably, increase the diversity of its executive and board leadership.
We have transformed from a traditionally reactive, tactical, and transactional process to a proactive, strategic, and relationship-focused approach. When it comes to diversity, relationship building is of the utmost importance.
Our proactive solution, the Leadership Pipeline Program, is to move from filling a single board seat with a diverse member to integrating diversity into a long-term board succession plan tied to the company's long-term strategic plan. We do this by identifying and then strategically building a pipeline of carefully curated diverse leaders who fit within an organization's culture and long-term strategic plan well before an active opening exists. These leaders become an integral component of a board's succession planning over the next two to four years.
Although a traditional board search will still be needed for unexpected departures, we anticipate that most vacancies will be filled by long-term, proactive external succession planning.
Why should boards use a search professional to help with their efforts to attract more diverse board members?
Ongoing Process. Board refreshment is an ever-evolving and ongoing process. A search firm like ours brings a proactive, anticipatory process for strategically building a pipeline of carefully curated diverse leaders who fit within an organization's culture and long-term strategic plan before an active opening exists.
Broader Pool. You'll gain access to a much broader pool of candidates as executive search professionals are constantly building relationships with strong diverse leaders.
We Are Your Advocate. You will benefit from a trusted executive search partner who will act as your company's strong third party advocate to:

Proactively seek diverse talent in a competitive environment.
Objectively assess and evaluate all potential board members (including those introduced by the current board) so that everyone is evaluated on a level playing field.
Interview all potential board members, and vet and conduct extensive in-depth assessments to ensure there are no surprises and that the executive is a good cultural fit. This is critical to success after the hire.

Objective and Trusted Advisor. We serve as a point person to support the board's deliberations, work to gain board alignment and develop the correct specifications for the new board member(s).
What advice do you have for CEOs and Chairs of nominating/governance committees who want to add gender, race, and other types of diversity to their boards?
Key takeaways to keep top of mind:
Lots of Competition; Attracting the Talent. In the current competitive environment, recognize that recruiting diverse candidates to your board is not business as usual.
Strategy Matters. Be strategic about building a diverse board. It may take two, three, or five years to accomplish full diversity. Integrate diversity aspirations into an organization's long-term strategic business plan and board succession plan.
Have a Plan and Ongoing Process. Start with the business plan, assess the current board's strengths and gaps, and find opportunities to integrate diversity.
Get Started. A diverse board is more than one woman and one person of color; however, this is a good start for many companies.
Look Ahead, Be Proactive. Continue to meet with outstanding diverse leaders and potential board members well in advance of when you need them. Building a relationship will be key for attracting diverse talent even if those executives are currently at capacity with board commitments and even if there is not yet an active opening.
Relationships are Everything. Think relationship building rather than hiring transactions. The best diverse talent wants to know that they will succeed after the hire. Find the right cultural fit.
Board Service as a Profession. Board service has been elevated, and there are programs and accreditations, so over time, board members will make moves that match their career trajectory as a board member.
Be Patient. Relationship building takes time and engagement of your board. Allow for 12 to 18 months for each future board opportunity and involve all board members, which can help increase the likelihood of success for both the board member and the company.
Diversity and inclusion in the boardroom and beyond will continue to grow in importance. I appreciated the thoughtful conversation throughout the panel and I encourage you to review the recording, which is available here.
1 https://www.cnbc.com/2020/01/23/goldman-wont-take-companies-public-that-dont-have-at-least-one-diverse-board-candidate-ceo-says.html