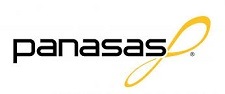 SUNNYVALE, Calif., Nov. 17, 2014 /PRNewswire/ — Panasas, the leader in hybrid scale-out NAS for technical computing and enterprise environments, announced today the addition of two new executives to the C-level leadership team. Joining the company are Chief Operating Officer (COO) Tom Shea, who leads all technical organizations at Panasas including engineering, operations, service and IT, and Chief Marketing Officer (CMO) Jim Donovan, who leads the global marketing organization with responsibility for product management, brand strategy, demand creation and sales enablement.
"I am thrilled that Tom and Jim decided to join Panasas," said Faye Pairman, Panasas CEO. "With the relevant industry experience and new perspective these two talented leaders bring to the organization, we're poised to better serve our customers, develop key new markets and accelerate growth."
Mr. Shea brings deep experience in a variety of engineering, general management and executive leadership positions. He led software and hardware teams in both public and private companies through periods of transition and dramatic growth, including successful public offerings. Most recently, Mr. Shea served as vice president and general manager at both Blue Coat Systems and SanDisk.
Mr. Donovan has proven global marketing and sales leadership experience, most recently as the senior vice president of global marketing at Teradata, where he was responsible for driving the company's corporate and vertical marketing efforts contributing to Teradata's rapid growth.
Visit Panasas at the Supercomputing Conference (SC14) Nov. 17 through 20 in booth 2657, for a demonstration of its flagship product, ActiveStor 16. To request a meeting, visit http://performance.panasas.com/SC14-meeting-request.html.
About Panasas
Panasas ActiveStor® hybrid scale-out NAS appliances drive enterprise and research innovation by accelerating workflows and simplifying data management. ActiveStor solutions leverage the patented PanFS® storage operating system, delivering high performance and reliability at scale from an appliance that is as easy to manage as it is fast to deploy. Now in its fifth generation, ActiveStor is optimized for the most demanding big data workloads in energy, government, life sciences, manufacturing, media, and university environments and has been deployed in more than fifty countries worldwide. For more information, visit www.panasas.com.