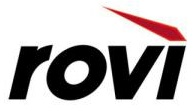 Rovi Adds Analytics Expertise to the Board with Appointment of New Director
Appointment of Steven Lucas Brings Expertise in Strategic Area of Advanced Analytics
SANTA CLARA, Calif.–(BUSINESS WIRE)–Rovi Corporation (NASDAQ:ROVI) today announced the appointment of Steven Lucas to its Board of Directors, effective March 20, 2015. This appointment expands the size of the Board from six to seven directors.
Andrew Ludwick, Chairman of the Board and chairman of Rovi's Corporate Governance and Nominating Committee, said "Steve is a seasoned veteran of the technology industry with an impressive record of accomplishment at the highest levels of leading companies. He brings a powerful mix of exactly the right ingredients to fuel Rovi's forward momentum. His expertise in analytics will be particularly valuable as Rovi continues to leverage our prominent guide footprint to help customers understand, analyze and monetize their cross-platform audiences. The market for advanced data and analytics services is large and growing, and Rovi has made significant progress in the last 12 months alone by introducing new customers to our advertising and analytics platforms to generate added revenue both for customers and for Rovi. Having thoroughly reviewed a broad range of highly qualified candidates and sought input from a number of our stockholders, the Committee enthusiastically recommended Steve's appointment to the Board."
Steve Lucas is the global President of SAP's Platform Solutions and has served in this role since 2013. In such role, he has led the go-to-market teams and strategy for SAP's Analytics, Database, Cloud Platform and 'Internet of Things' products. Prior to his current role, Mr. Lucas served as Global Executive Vice President and GM for SAP's Database & Middleware Business, as well as global GM for SAP's Business Analytics & Technology organization, where his responsibilities included strategy and go-to-market activities across sales, marketing and product management lines of business since 2009. Over the course of his 20+ year career in enterprise software, Mr. Lucas has held senior executive roles at a number of leading enterprise, cloud and analytics technology companies, including Senior Vice President of Force.com at Salesforce.com, Group Vice President at Business Objects, as well as various senior leadership positions at Crystal Decisions, a reporting software company. Mr. Lucas has also co-chaired various government technology leadership initiatives including the TechAmerica BigData committee. Mr. Lucas also serves as a member of the board of directors of SendGrid, a privately-held internet email infrastructure technology company.
As part of Rovi's ongoing effort to augment the Company's Board of Directors with expertise in key strategic areas, Rovi's Corporate Governance and Nominating Committee conducted an extensive search process with the assistance of Howard Fischer Associates, a leading professional search firm and identified, interviewed and evaluated a wide range of candidates.
Important Additional Information and Where to Find It
The Company plans to file a proxy statement with the Securities and Exchange Commission (the "SEC") in connection with the solicitation of proxies by the Company in connection with its 2015 Annual Meeting of Stockholders. STOCKHOLDERS OF THE COMPANY ARE URGED TO READ THE PROXY STATEMENT AND OTHER DOCUMENTS FILED WITH THE SEC CAREFULLY IN THEIR ENTIRETY WHEN THEY BECOME AVAILABLE BECAUSE THEY WILL CONTAIN IMPORTANT INFORMATION. Stockholders will be able to obtain free copies of these documents (when available) and other documents filed with the SEC by the Company through the website maintained by the SEC at www.sec.gov, and at the Company's website at www.rovicorp.com.
Rovi's directors and executive officers and other persons may be deemed, under SEC rules, to be participants in the solicitation of proxies in connection with the 2015 Annual Meeting of Stockholders. Information regarding the participants in the proxy solicitation and a description of their direct and indirect interests in the transaction, by security holdings or otherwise, will be contained in Rovi's Annual Report on Form 10-K for the year ended December 31, 2014 and in Rovi's proxy statement for the 2015 Annual Meeting of Stockholders when filed with the SEC.
About Rovi Corporation
Rovi is leading the way to a more personalized entertainment experience. The Company's pioneering guides, data, and recommendations continue to drive program search and navigation on millions of devices on a global basis. With a new generation of cloud-based discovery capabilities and emerging solutions for interactive advertising and audience analytics, Rovi is enabling premier brands worldwide to increase their reach, drive consumer satisfaction and create a better entertainment experience across multiple screens. The Company holds over 5,000 issued or pending patents worldwide and is headquartered in Santa Clara, California. Discover more about Rovi at Rovicorp.com.