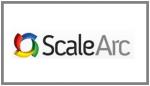 Santa Clara, CA (PRWEB) December 03, 2013
ScaleArc, a leading provider of database traffic management software, today announced the addition of two new executives to its senior management team. Alok Srivastava joins as Senior Vice President of the Global Engineering organization, chartered with growing the company's R&D capabilities around the world. Michelle McLean joins as Vice President of Marketing, responsible for all aspects of corporate and product marketing. Both leadership roles are essential as ScaleArc embarks on its next stage of product expansion and maturity as well as market adoption of its innovative database traffic management platform.
Srivastava has driven global engineering organizations at companies in Silicon Valley and India over the past 27 years. Throughout his career, he has driven development of innovative approaches to scaling databases, with a focus on massively parallel and distributed systems for managing big data. He joins ScaleArc most recently from ParAccel, the big data analytics technology behind Amazon's Redshift. He was also the Founding Vice President of Engineering for Delphix, which pioneered database virtualization. As part of his 12-year tenure at Oracle, he drove development of Oracle RAC, amongst the first database clustering technologies.
"Alok's extensive background and decades of experience in scalable and high-performance databases is the perfect combination to take our global engineering organization to the next level," said Varun Singh, Founder and CTO of ScaleArc. "We're thrilled to have attracted an industry veteran like Alok as we aggressively build out our global engineering team."
McLean brings to ScaleArc more than 20 years' experience driving all aspects of marketing for networking, security, application acceleration, and wireless network providers. She was most recently at Silver Spring Networks, which enjoyed a successful IPO earlier this year and where she led the product marketing organization responsible for content development and sales enablement. She's driven extensive corporate and product launches at category-defining companies such as ConSentry Networks, Peribit Networks, and Trapeze Networks. She began her career as a journalist and analyst, including advising Global 2000 companies at META Group.
"Michelle's experience launching category-defining companies and creating new markets is crucial as we drive adoption of our pioneering database traffic management software," said Justin Barney, President and CEO at ScaleArc. "Her expertise in growing companies at our stage is the perfect fit as we increase our presence and opportunity around the globe."
About ScaleArc 
ScaleArc is the leader in the emerging product category of database traffic management, software that improves the performance and availability of mission-critical applications and websites. The ScaleArc iDB platform leverages patented technology to provide instant database scalability and performance gains. It drops in transparently between the application and database, avoiding the time and cost associated with building out database infrastructure and modifying applications. The iDB software is available for MySQL, Microsoft SQL Server, and Oracle database environments for on-premise or cloud deployments. Customers include Disney UTV, M-GO, BlogTalk Radio, KIXEYE, Sazze (dealspl.us), SpinMedia, TechFetch and others, with a typical ROI of 6 months or less. ScaleArc is headquartered in the heart of Silicon Valley and is backed by Accel Partners, Trinity Ventures, and Nexus Venture Partners. Learn more at http://www.ScaleArc.com.
ScaleArc, ScaleArc iDB, and the ScaleArc logo are trademarks or registered trademarks of ScaleArc in the United States and other countries. All brand names, product names, or trademarks belong to their respective holders.