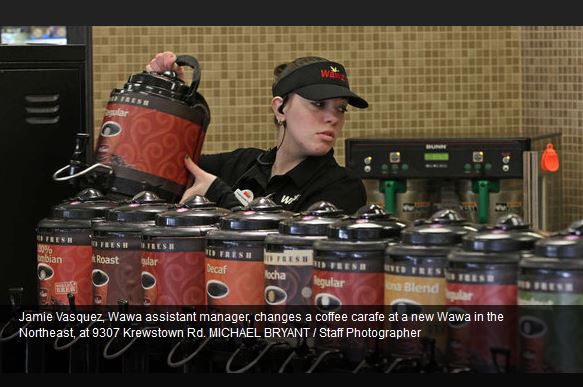 For Barbara Baals of Gloucester Township, the closer was when a favorite Wawa cashier at the Washington Township store serenaded her with a rendition of Van Morrison's "Have I Told You Lately."
Ken Kropp was taken by the unsolicited care packages that arrived at his Aston home when the staff at his local Wawa learned he was ill.
Lisa R. Bachart can't say enough about the over-the-top gift basket her Sellersville Wawa donated for a fund-raiser to aid her 10-year-old daughter, who is fighting a rare eye disease.
And then there is Theresa Frangione, an 89-year-old Glen Mills resident who had wrapped herself in a comforter and huddled on her couch after being overcome by a violent bout of vertigo. Help arrived in the form of the nearby Wawa manager, who wondered why Frangione hadn't stopped by for her daily papers.
"They have given me such a wonderful life," Frangione said of the store's staff. "They look after me. They have given me a glamorous life."
Not bad for a purveyor of hoagies and Tastykakes.
This month – April 16, to be exact – the little store with the quirky name turns 50, a milestone to be celebrated with free coffee for customers; a private gathering of employees, business partners, and invited guests at the National Constitution Center; and the unveiling of the $50 million Wawa Foundation, a nonprofit to aid local communities.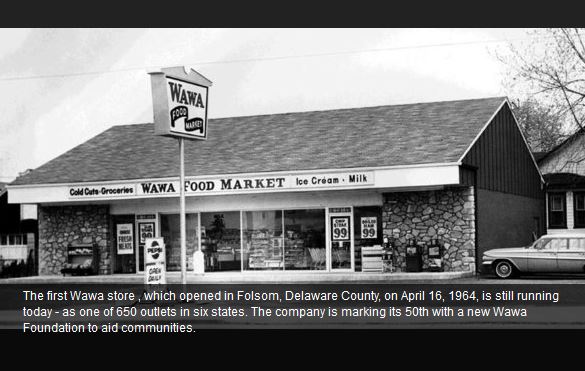 What began in 1964 with a single store in Folsom, Delaware County (it's still open), has morphed into a $9 billion enterprise with 22,000 employees and 650 outlets in six states dispensing round-the-clock coffee, made-to-order sandwiches, hot meals, snacks, and more than a little TLC.
An unquestioned business success, it also has achieved a somewhat baffling status for a convenience store: beloved. Effusive customers have created social-media pages and YouTube videos in homage to Wawa while regularly banging out gushing missives about its stores and employees.
"Who doesn't love Wawa? It is part of the culture to be a member of the Wawa Nation, isn't it?" asked Baals, an administrator at Rowan University. "I am. I admit it."
Which is music to Howard Stoeckel's ears
"We are selling more than a cup of coffee," said the former Wawa CEO and author of The Wawa Way, a 12-chapter mash note to the company he guided from 2005 to 2012. "We become part of a customer's life. We want to be the Cheers of the convenience stores, a place where everybody knows your name."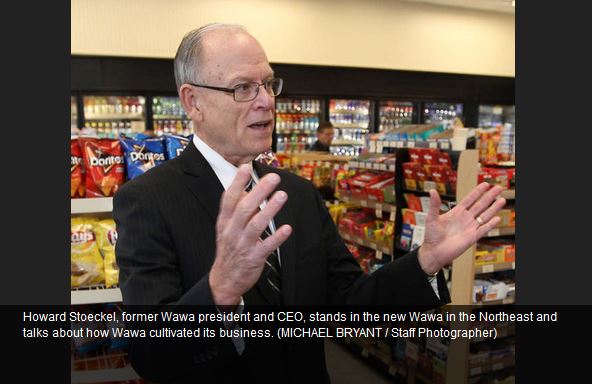 If there is a rap against Wawa, it might be that the chain is too successful. Some communities have balked at its new superstores, with their multiple-pump gas stations, fearing they will generate too much traffic.
All things considered, that's a problem most firms would love to have.
It's hard to imagine, then, the company's start two centuries ago as a South Jersey iron foundry. The road to fruit smoothies was paved when foundry heir George Wood decided to dabble in dairy farming. In 1902, he set up a processing plant in the community of Wawa (in Chester Heights, southern Delaware County), which took its name from a Native American name for the Canada goose.
For the next 60 years, Wawa established itself as a regional star with its home-delivered milk. When changing lifestyles and the growth of supermarkets threatened that success, Wood's grandson, Grahame Wood, decided to open the first Wawa market as an outlet for the dairy's products.
Not everyone shared his vision. The old Philadelphia National Bank considered the move too risky and turned down Wood's $50,000 loan request. He got the money elsewhere and never looked back.
"On Saturdays, Grahame would get into his red station wagon and drive around to every store, which in the '60s would have been about 20," recalled Richard Wood, a cousin who would follow Grahame as company president. "He would visit with the managers, get to know them, get to know their families. Right from the beginning, he recognized the importance of creating a culture of putting people first."
Over the decades, much has changed. The original stores sold primarily dairy products, cold cuts, and ice cream. Coffee, now a staple, wasn't added until 1975.
And what was a small, family-run operation now is a sprawling but still privately owned corporation with its own gasoline-trading desk, a test kitchen to cook up new food products, a warehouse-size innovation center to try out new store designs, and even a coffee guru who travels the world to get the best beans for the chain's private brand.
Undisturbed, however, is the corporate commitment to a bottom-up culture that places value, first, on its customers, and then its frontline employees.
"I like to tell people I am the least important person here," said Chris Gheysens, the current CEO. "My job is to make sure we remove every obstacle and give the people in the stores everything they need to make sure they can serve their customers."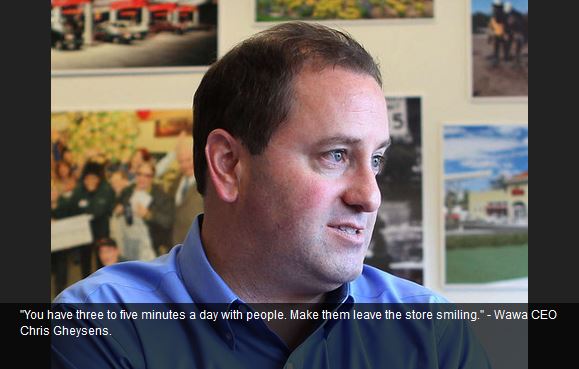 Lest you think that's just corporate-speak, there is independent evidence to the contrary.
A Harvard Business Review study credited the company's culture for Wawa's relatively low employee turnover rate (22 percent vs. a triple-digit retail-sector average) and its financial performance (twice the growth rate of the S&P 500 from 1977 to 2003).
In their 2005 article, authors Neeli Bendapudi and Venkat Bendapudi noted that "in most retail environments, training is minimal – seven hours on average," typically conducted off-site.
Wawa offers extensive employee training at its own on-site "Wawa University" and through St. Joseph's University. And, the Bendapudis said of Wawa, "such investment in people continues well beyond the initial hire."
"Wawa encourages its people to pursue degrees in any field of study – philosophy, biology, history – and reimburses tuition at three colleges with which it has relationships. Executives reason that higher education benefits individuals, the community, and Wawa by boosting employees' confidence and critical-thinking skills. This is a clear differentiator in the industry," the article said.
Employees also are awarded company stock based on company performance.
"It's my experience that the company leadership listens closely to everything the associates say," said Vicki Kapusta, who manages the Wawa on Krewstown Road in Northeast Philadelphia. "I feel we are being heard."
The culture remains the company's bedrock, even as it continues to evolve.
"The biggest challenge is trying to stay relevant," said Gheysens, 43, who grew up in Vineland and was a 15-year Wawa veteran when he became chief executive officer in 2012. "Customer needs are moving more quickly than they did a decade ago."
On the drawing boards are new store designs, a mobile Wawa app, even the possibility of some seating in stores, something long anathema to a chain devoted to getting customers in and out in three minutes or less.
First and foremost, however, Gheysens wants to make sure Wawa doesn't lose its proven edge.
"We want our associates, each and every day, to try to fulfill someone's life," he said. "You have three to five minutes a day with people. Make them leave the store smiling. If we can do that a million times-plus a day, and that's not easy in retail, that will keep us where we are – Number One."
---

BY THE NUMBERS
650 Stores
22,000 Employees
600M Customers served annually
195M Cups of coffee brewed annually
70M Hoagies built-to-order annually
1.7B Gallons of fuel sold annually
SOURCE: Wawa